Alice in Zombieland (White Rabbit Chronicles #1)

by

Gena Showalter
She won't rest until she's sent every walking corpse back to its grave. Forever.
This book totally ties with another book(to be reviewed later) for the number one spot in my top favorite books of 2012!!! I am not a Zombie fan normally, but Gena Showalter hooked me just in the first few lines... I loved this book so much and I can not wait for book 2 to come out. Sadly that isn't until October 2013...Gena Showalter in my opinion took zombies to a whole new level and it was amazing. I loved every second of this book and never wanted it to end. And the last few chapters blew me away. If you have not read this book yet, go buy it and read it... Also the book itself, is really cool looking,why are you still reading this, go but this book and start reading it :)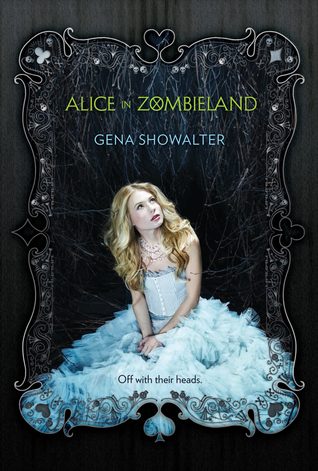 Had anyone told Alice Bell that her entire life would change course between one heartbeat and the next, she would have laughed. From blissful to tragic, innocent to ruined? Please. But that's all it took. One heartbeat. A blink, a breath, a second, and everything she knew and loved was gone.

Her father was right. The monsters are real….

To avenge her family, Ali must learn to fight the undead. To survive, she must learn to trust the baddest of the bad boys, Cole Holland. But Cole has secrets of his own, and if Ali isn't careful, those secrets might just prove to be more dangerous than the zombies….


I wish I could go back and do a thousand things differently.
I'd tell my sister no.
I'd never beg my mother to talk to my dad.
I'd zip my lips and swallow those hateful words.
Or, barring all of that, I'd hug my sister, my mom and my dad one last time.
I'd tell them I love them.
I wish... Yeah, I wish.